It is difficult to keep management awake when the topic is San Francisco record storage. On the surface is does not look like a topic that requires much attention. But information storage can be a tremendous asset or a possible pitfall. Each business needs a continuity plan in the event of emergency.
Additionally, numerous laws mandate the retention of company records. It is possible to store records in an office but that is not very affordable for a Northern California business. It does not make sense to waste costly office space for boxes of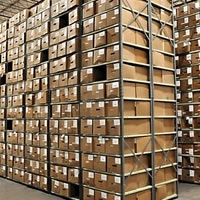 documents.
There is also a requirement to keep security over the information. And even more importantly there must be procedures in place for fire, flood, and theft. An answer to all of these issues is a record storage facility.
Here are a few things to seek out in a San Francisco records storage provider.
Efficiency & Cost Reduction
Off site records storage providers will help you to lower your operating costs, improve worker productivity, and safeguard your organization from the risks of audit and flood. Records storage providers have assisted businesses and organizations save money from storage space, employees, and records management.
Safeguarding of Documents
The security and confidentiality of sensitive records and files is sometimes taken too lightly. Companies can easily become swamped with efforts to comply with privacy standards. Hiring a third party simplifies privacy problems.
Access Control
It is crucial to have the right documents in the proper hands. All documents should be kept on a need to know standard. The more people that can contact the larger the threat with control. We can secure it to a single document level.
Climate Controlled Record Storage
We provide temperature and humidity controlled storage in San Francisco for multiple types of digital formats. That includes paper, slides, x-rays, microfiche, discs, data tapes. The area is set up with a backup power source.
Legal Requirements
Many businesses keep great volumes of files. They may be doing so unnecessarily. There are also many who neglect to keep the right records and may be discarding critical documents that should be retained. Document retention management with document storage services will allow you to set up processes for what documents to retain and for how long. Additionally, it sets up how to destroy papers when they are no longer needed.
Business Continuity & Recovery
Disaster recovery services create a process to get your business back up after a disaster. Knowledge management specialists create a simple approach to data protection. A program can save you time, money, and perhaps the sustainability of the company.
Get Free, No-Hassle Quotes on Document Storage Services in San Francisco
San Francisco Document Scanning & Imaging offers secure records storage and record retrieval services throughout San Francisco. To get free quotes for your project, fill out the form to your left, or give us a call at (415) 738-7711 today.